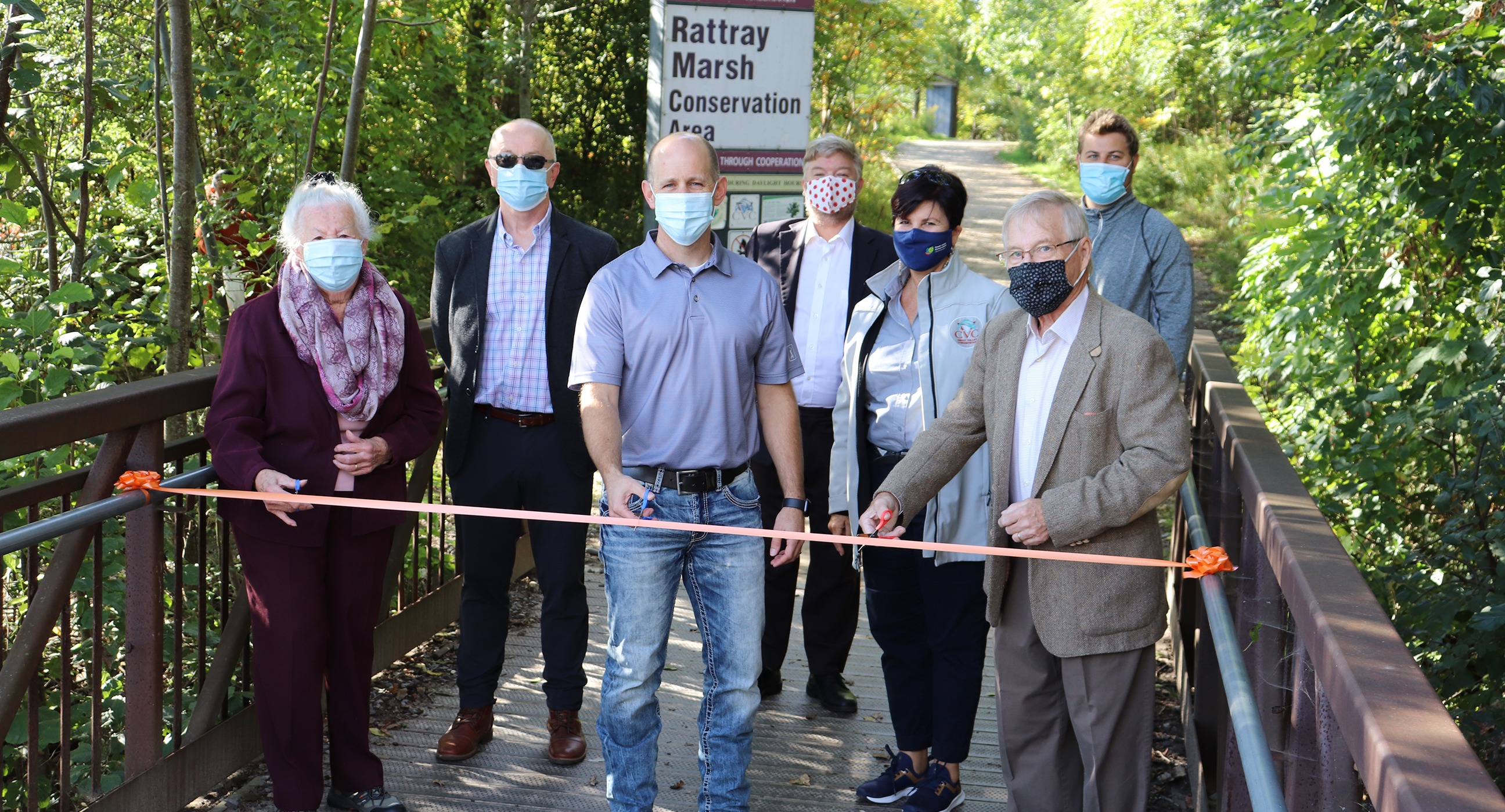 Oct 11, 2021
Rattray Marsh Receives Funding from Petro-Canada Lubricants
Rattray Marsh is an environmental gem located in a unique natural setting within the City of Mississauga. As the last remaining lakefront marsh between Toronto and Burlington, this environmentally sensitive wetland offers a different experience for nature lovers. It's home to a variety of wildlife and plants and a definite must see for avid bird watchers, photographers and nature lovers.
Rattray Marsh is CVC's most visited conservation area. 2020 saw record visitation, with over 334,000 people enjoying the boardwalks, bridges, beach and scenic vistas. Not only is it a refuge for wildlife, it's also a refuge for local residents, who are able to find comfort and solace throughout the pandemic in this unique natural setting so close to home.
The Turtle Creek entrance to Rattray Marsh is the busiest access point in CVC's entire conservation area system. In 2018 and 2019, the existing boardwalk and bridge were subject to periodic flooding and washout from the Lake Ontario, resulting in an unsafe user experience and continual maintenance needs.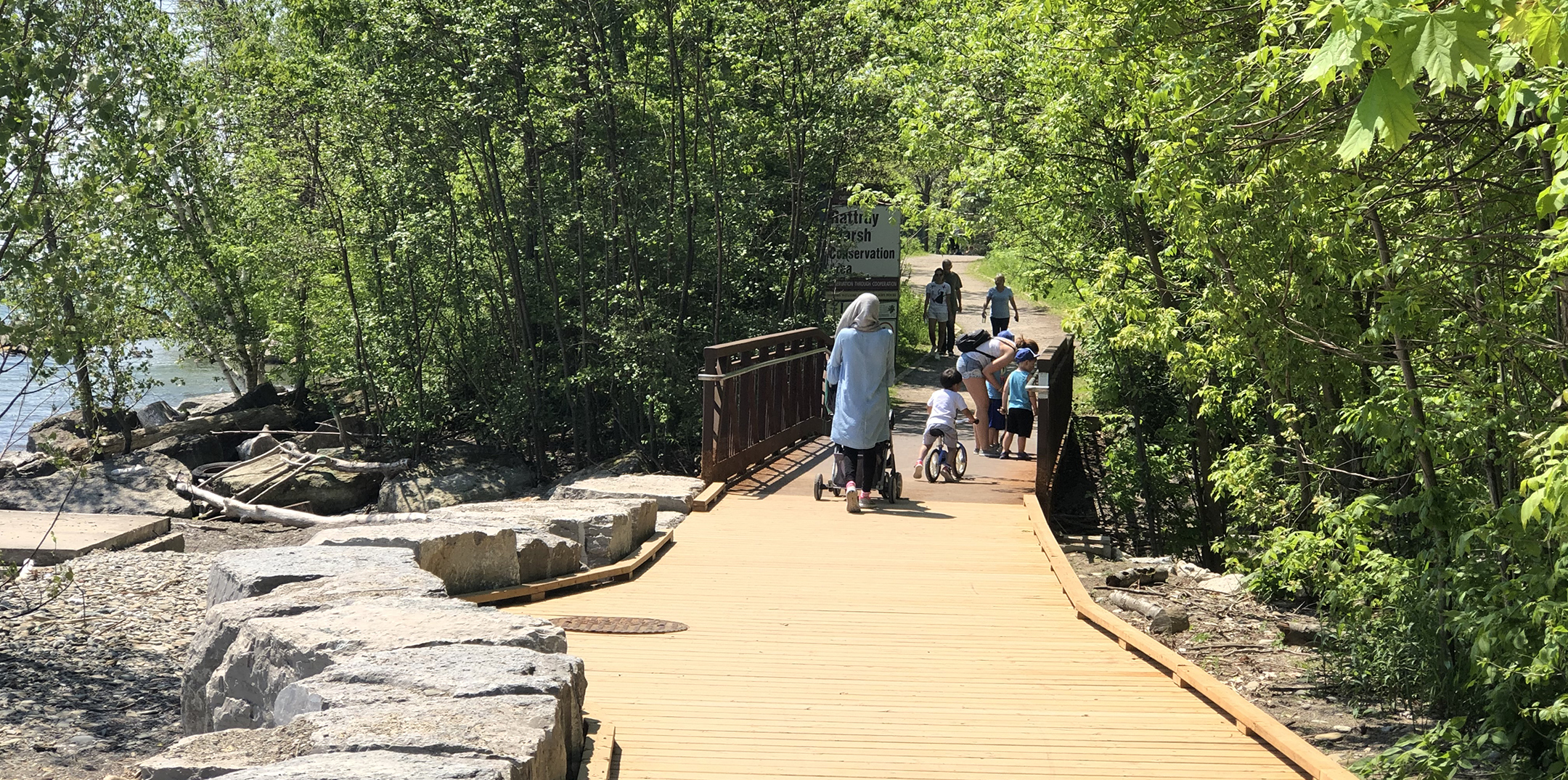 Turtle Creek entrance to Rattray Marsh Conservation Area
Thanks to a generous $21,100 donation from HollyFrontier's Petro-­Canada Lubricants business, CVC raised the existing bridge to a safe level above lake flooding, and created a new elevated boardwalk protected by a new climate-resilient stone armouring solution. The new entrance is fully accessible and provides a safe and attractive welcome to Rattray Marsh, while maintaining natural coastal processes.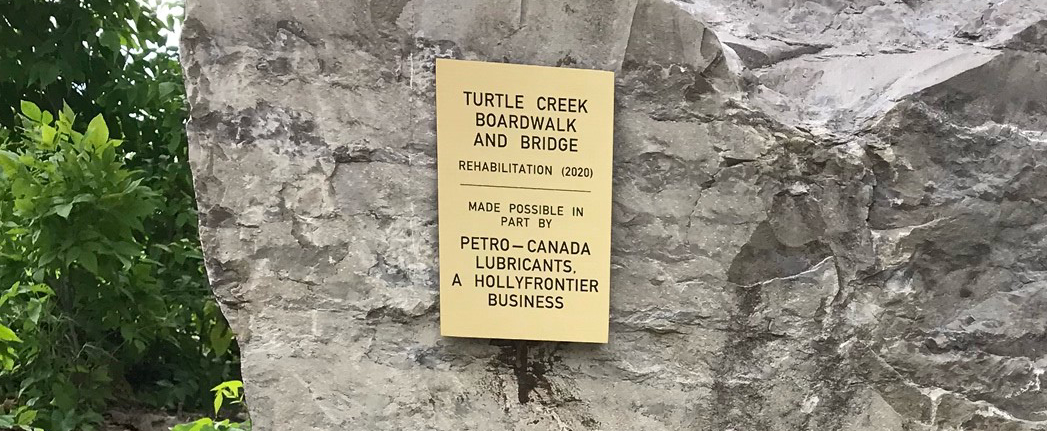 Onsite recognition plaque
At the ribbon-cutting ceremony for the new Turtle Creek entrance, HollyFrontier, announced another $7,000 toward current boardwalk renovations that will protect the conservation area from further damage and to remove even more barriers. This includes reconstructing the entire Knoll Trail boardwalk and removing over 100 steps, making Rattray Marsh's Knoll Trail fully accessible.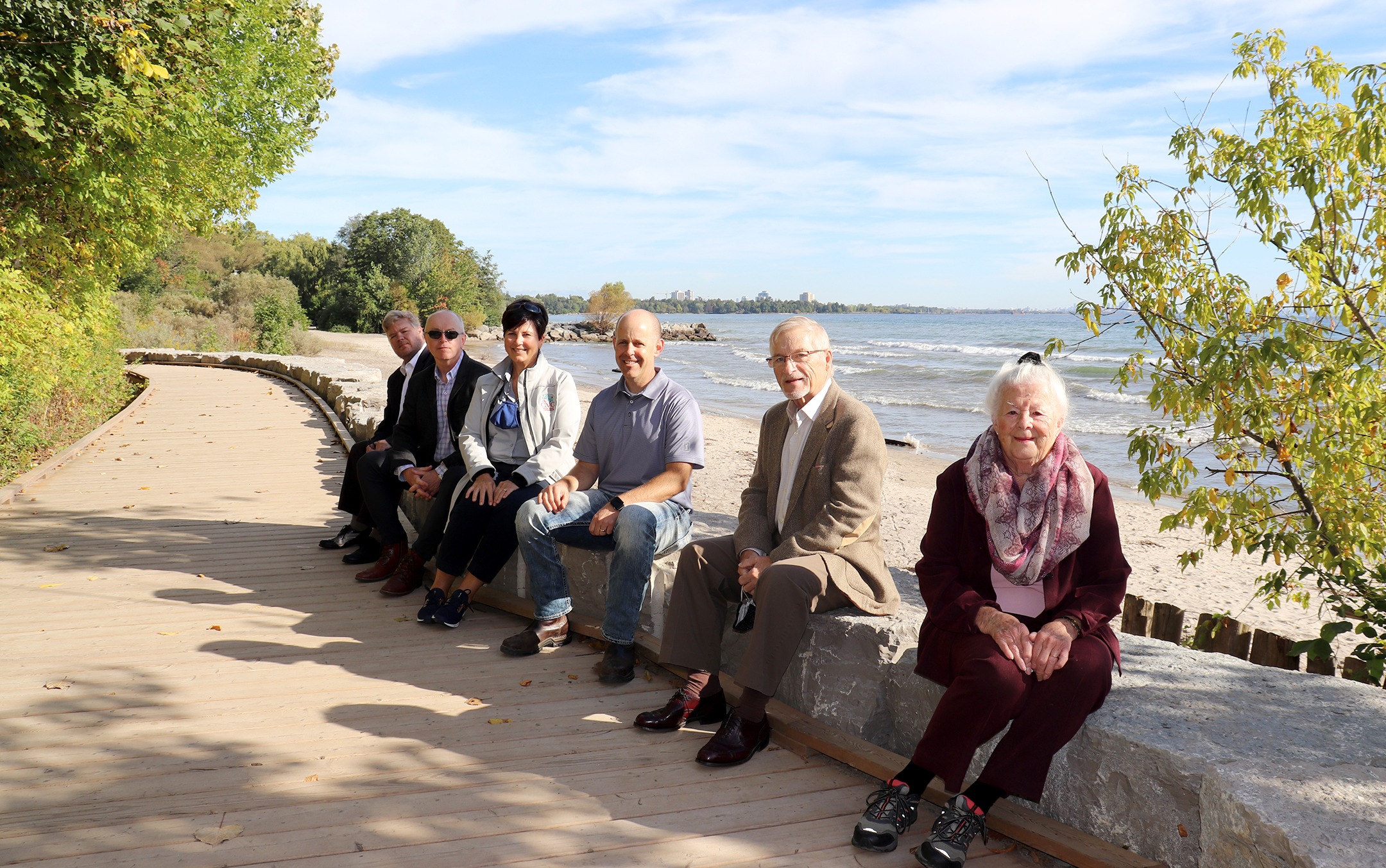 Project partners on the new, protected boardwalk. From left: Michael D. (Advisor, Communications and Public Affairs, HollyFrontier), Bob Atkinson (CVC Foundation Board Member), Deborah Martin-Downs (CAO, CVC), Jeff Danielson (VP Mississauga Operations, HollyFrontier), Ed Arundel (Vice Chair, CVC Foundation) and Jean Williams (Rattray Marsh Protection Association and CVC Foundation Board Member).
In addition to investing the environment, staff from HollyFrontier regularly get their hands dirty by participating in staff workdays, helping CVC remove invasive species at Rattray Marsh, and taking part in other activities to enhance the conservation area.
We're grateful for the generous contributions to the local environment and community made by HollyFrontier's Petro-Canada Lubricants business.