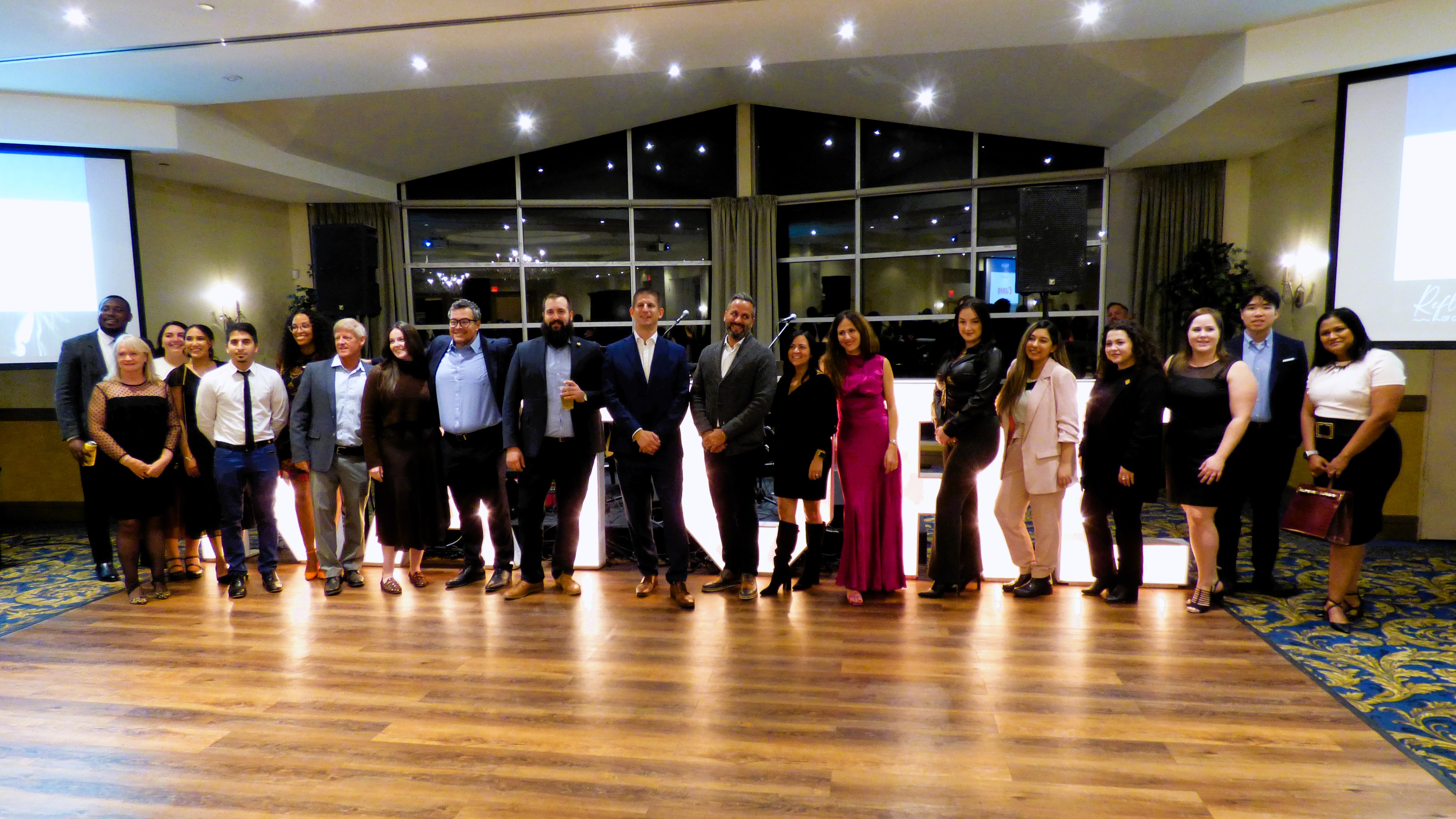 Oct 18, 2023
Nature Inspires as Conservation Gala Receives Outpouring of Support
Credit Valley Conservation Foundation (CVCF) hosted its 17th Annual Conservation Gala, presented by 407 ETR on Thursday, October 12 at Lionhead Golf and Conference Centre in Brampton. The gala brought together more than 330 guests who raised over $240,000 in support of local environmental initiatives. Sponsorship from community businesses raised a significant portion of these funds.
The Conservation Gala fundraiser supports CVCF's mission to invest in projects that protect and enhance the local natural environment for present and future generations. Proceeds from this year's gala support CVCF's 10-year $10 million fundraising campaign to connect the Credit Valley Trail (CVT). The campaign was launched in November 2020 and is the largest fundraising project in the foundation's history, raising $3.85 million to date. Currently, 32 kilometres of the trail have been connected and events like the gala help raise the funds needed to connect the remaining 68 kilometres.
"We would like to express our deepest gratitude to everyone who supported our 17th annual Conservation Gala," said Ed Arundell, CVCF Board Chair. "Thanks to the generosity of our guests, partners and sponsors, we're well on our way to reaching our goal to build the next section of the Credit Valley Trail and connect people to the diversity of the Credit River Watershed."
This year's theme – Reflections of Conservation - was echoed throughout the night's festivities. Guests were welcomed by Indigenous drummers and the gala featured a cocktail reception with food stations, live music, birds of prey display, a roaming magician, a photographic art display and silent auction. Highlights of the event were Indigenous spaces where guests could indulge in traditional food and learn about Indigenous culture and heritage and how Credit Valley Conservation is honouring commitments to truth and reconciliation.
"407 ETR is in the business of connecting Ontarians to the people and places important to them through a seamless journey. We're proud to support Credit Valley Conservation as it builds connections between Ontarians and the beautiful natural spaces around us, including those we're privileged to appreciate along the Highway 407 ETR corridor," says Javier Tamargo, President & CEO, 407 ETR. "It's an honour to be the first corporate sponsor of the 100-kilometre Credit Valley Trail Project and a part of the legacy this trail will have for generations."
The gala also received generous sponsorship support from ARGO Development Corporation, NAK Design Strategies, Urbantech Consulting, Canon Canada, Paradise Developments, Lakeview Village, TPC Toronto at Osprey Valley, Fieldgate Developments, R.J. Burnside & Associates Limited, GEO Morphix, Equitable Bank, R&M Construction, Mayfield McLaughlin Developments, Crozier Consulting Engineers, EarthCo Soil Mixtures, GEI Consultants, Canada Lands Company and Imperial Oil Limited.
Each year elected officials, corporate leaders, individual donors and municipal representatives attend the Conservation Gala. Since 2006, the Conservation Gala has raised approximately $3.25 million in support of CVC projects and initiatives that enhance the local environment for present and future generations.
Photos: A few guests at the 17th Annual Conservation Gala, including staff from the event's presenting sponsor 407.
About Credit Valley Conservation Foundation
Credit Valley Conservation Foundation is a registered environmental charity working to help protect and conserve the lands and waters of the Credit River Watershed. The Foundation accomplishes this by raising funds in support of the valuable conservation projects carried out by Credit Valley Conservation (CVC) that protect the health and well-being of the flora and fauna, the watershed and its inhabitants for today and tomorrow. CVC inspires a deep appreciation for the role of nature in keeping people connected, healthy and happy.
About Credit Valley Conservation
Credit Valley Conservation (CVC) is a local conservation authority established by the Ontario government in 1954 to protect, restore and enhance the natural environment of the Credit River Watershed. Our watershed is defined by the area of land where all rainfall, snowmelt and runoff drains into lands and waters flowing into the Credit River. CVC creates connections between people and nature, knowledge and action. We inspire a deep appreciation for the role of nature in keeping people connected, healthy and happy. CVC is a member of Conservation Ontario.
-30-
Media Contact
Jamie Williams
Specialist, Marketing & Communications
Credit Valley Conservation
905-431-5772
Jamie.williams@cvc.ca