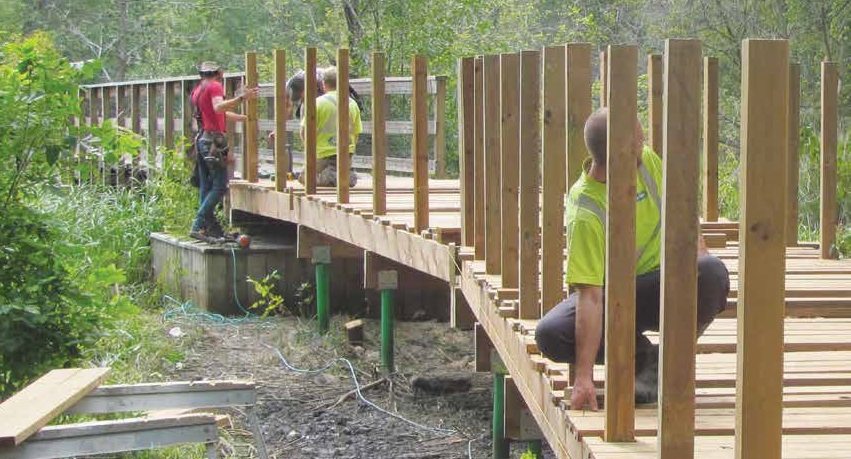 Jun 2, 2021
CVC Foundation partners with Timber Specialties Limited on accessible boardwalk
Supported by a generous donation of lumber from Timber Specialties Limited, Credit Valley Conservation (CVC) plans a series of boardwalk renovations at Rattray Marsh Conservation Area throughout 2021. This includes reconstructing the conservation area's Knoll Trail boardwalk and removing over 100 steps, making the Knoll Trail fully accessible.
"We're beyond grateful to Timber Specialties Limited for their generous donation," said Jon MacMull, Acting Executive Director for CVC Foundation. "We're committed to removing barriers for people with disabilities, wherever possible, and we're so glad that Timber Specialties Limited shares our commitment to accessibility, the environment and our local communities."
With limited recreation opportunities available due to the pandemic, people have rediscovered nearby conservation areas for outdoor recreation. Rattray Marsh is CVC's most visited conservation area. 2020 saw record visitation, with over 334,000 people enjoying the boardwalks, bridges, beach and scenic vistas – a 67 per cent increase over 2019.
"We are pleased to donate Canada's most popular, environmentally-certified MicroPro Sienna treated wood to the Knoll Trail boardwalk project," said Brad Burmeister, Vice President, Timber Specialties Limited. "As a company that understands and appreciates the value of quality, outdoor spaces, it's an honour to contribute to an accessible boardwalk that will allow everyone to experience the beauty and wellness that can be found at Rattray Marsh Conservation Area."
Rattray Marsh is an environmental gem located in a unique natural setting within the City of Mississauga. As the last remaining lakefront marsh between Toronto and Burlington, this environmentally sensitive wetland offers a different experience for nature lovers. Not only is it a refuge for wildlife, it's also a refuge for local residents, who are able to find comfort and solace throughout the pandemic in this unique natural setting so close to home.
CVC's conservation areas have long relied on a healthy mix of local government support and community donations to keep them beautiful, thriving and accessible.
About Timber Specialties
Timber Specialties Limited is the Canadian wood preservative division of Koppers Inc., a leading integrated global supplier of carbon compounds and commercial wood treating products and services. Timber Specialties' sales of wood preservatives and plant equipment to wood preservation facilities in Canada are supported by engineering, technical and marketing staff who are dedicated to serving Canadian customers. MicroPro Sienna is an all-year-round exterior wood product. The LEED certified preservative technology is the most advanced wood treatment process for wood used in outdoor builds.